Graham Reid | | 1 min read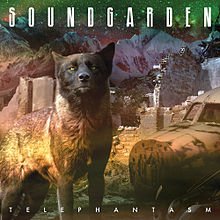 Once they hit their stride around the time of Badmotorfinger in '91, Soundgarden out of Seattle had shaken out the ragged semi-punk and yelping metal for a much more dense and intense attack.
Material like Jesus Christ Pose (here in a searing, seven minute live version of deconstructed noise) was a quantum leap from the noise they were making on the SST label, and even Badmotorfinger's predecessor Louder Than Love.
Now reformed -- they split in '97 -- they allow us a look back at their world domination period with this 24-song double disc and DVD collection (20 videos in all which includes uncensored versions).
Always a thrilling guitar band -- was Kim Thayil the only guitarist from the grunge era who had been studying philosophy before the music took over? -- it is that megaton riffing and sonic density (Spoonman, Pretty Noose) which was a massive part of their appeal as sometimes singer Chris Cornell's high yelp (Birth Ritual) could be hard going.
When Cornell (interviewed here in '92) dropped it down a notch and let go a lung-bursting attack (Jesus Christ Pose, My Wave, Superunknown, the great Black Hole Sun, Fell on Black Days) they were to be counted as one of the best hard rock bands on the planet.
This chronological collection -- which includes half a dozen pre-Louder Than Love tracks which are a bit of grueling trek, and a decent booklet -- shows their growth and, with a couple of exceptions, it is a thrilling journey from halfway through the first disc (Big Dumb Sex onwards) to the previously unreleased Black Rain at the end of the second.
Not one to play at moderate volume, we might add.