Graham Reid | | <1 min read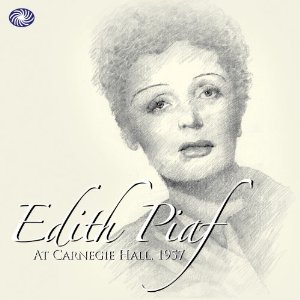 Those who are used to hearing "The Little Sparrow" in aching, melancholy mode will be surprised by this historic concert at Carnegie Hall where she appeared with a full orchestra and choir, and that on ocassion she speaks and in English.
After the success of the Piaf film (with Marion Cotillard), interest in Piaf has seldom been higher and those who perhaps picked up a single disc best-of on the back of that might want to make the leap to this double disc which restores the concert in its entirety and of course contains some of her most famous songs (but not Non, je ne regrette rien which wasn't recorded until '61).
The sound isn't what you might hope for but there is an undeniable sense of event about it, the concert which came late in her career (she died six years later) and at another low point in her life (shortly after her divorce from Jacques Pills).
The concert (her last at Carnegie Hall) was greeted with enormous acclaim and Piaf, not well, felt the warmth of applause on perhaps the last great American occasion in her life.