Graham Reid | | <1 min read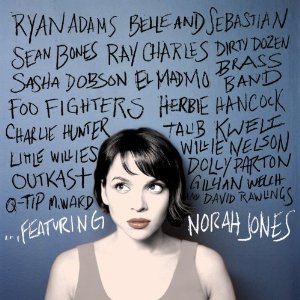 Those who dismiss Norah Jones as some kind of aural wallpaper clearly aren't listening carefully enough. Her albums have been quietly progressive as they step deftly betwen lounge jazz and alt.country -- and the lady constantly defies expectation.
Not the least by putting herself about a bit, in a professional way.
This 18 track album may be something of a stop-gap as it collects some of the many collaborations she has done over the past decade -- and you'd be hard pushed to find anyone (Elvis Costello maybe?) who has worked with so many different artists.
So here are tracks with the Foo Fighters (Virginia Moon), Willie Nelson (Baby It's Cold Outside), the Dirty Dozen Brass Band and blues guitarist Robert Randolph (the classic Ruler of My Heart), Outkast, Q-Tip, Ray Charles, Gillian Welch and David Rawlings, Ryan Adams, Belle and Sebastian, Charlie Hunter, M. Ward, Sean Bones . . .
And stylistially Jones seems as comfortable in mainstream country, on an Elvis adaptation (Treat Me Like a Fool/Love Me with the Little Willies), country'n'western, Southern soul, dramatic ballads . . .
Impressive.