Graham Reid | | 1 min read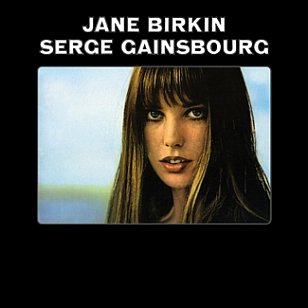 Sex sells. It certainly sells the idea of maturity when former popettes decide to ditch the little sister look and get into barely-there leathers. Adults of course find this tasteless and the kids being manipulated, but it's nothing more than sex selling a product just like any other.
Sex gets people hot under the collar (as in outraged) and you can guarantee to get a rise out of some when it is thrown in their face. (Sorry, couldn't resist the ambiguity there.)
Sex sure sold for real-life lovers Birkin and Gainsbourg. Their provocative, orgasmic single Je t'aime . . . moi non plus (I Love You . . . Me Neither) in 1969 soared up the charts all over Europe despite being banned from airplay in most countries. People had heard nothing like it outside their own bedroom: Jane moaning and whispering, Gainsbourg taking it slow and holding back, and all this over real MOR organ groove and soft strings which sounded like the Paul Mauriat Orchestra.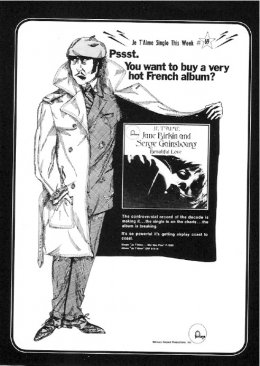 Gainsbourg had previously recorded a version with his former lover Brigitte Bardot but her husband found out and she begged Gainsbourg not to release it. (Marianne Faithfull says Serge asks every woman to record it with him.)
It mattered little that Birkin wasn't much cop as a singer -- especially when she went up an octave at Gainsbourg's insistence so she sounded like a young boy -- and on this album, which opens with Je t'aime she sounds like Yoko (when Ono adopts her childlike voice, not in her screaming orgasm mode) for Orang Outan (about a child's toy, perhaps).
Her wobbly song Jane B will be an acquired taste.
The album is full of innuendo (yes, it was 1969 and they might have been singing about that year on 69 Annee Erotique) but Gainsbourg's poetic pieces -- here in translation in the extensive booklet -- are more interesting, and what has enduring appeal are the arrangements for small ensembles, and the layering of vocals.
As with the Gainsbourg album Histoire de Melodie Nelson, this aspect is as interesting as anything on this rather uneven album which shifts between poetry, autobiography and a little self-aggrandising.
Given the state of hip-hop lyrics and 15-year old popettes pouting in a morning-after way in magazine photos, Je t'aime sounds a little tame . . . but a whole lot more classy.