Graham Reid | | <1 min read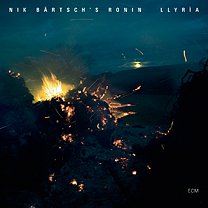 Because music on the ECM label often invites a litany of familiar adjectives -- austere, cool, detached -- it's a pleasure to throw this disc into the player and find yourself thinking more along the lines of . . . muscular, vigorous, assertive.
Even the cover here suggests fireworks --- and while the music isn't exactly incendiary this young Swiss group lead by pianist Bartsch certainly push harder and more rhythmically than most artists on the label. Perhaps having both a drummer and percussion player ups the energy, but it is altoist/bass clarinet player Sha driving over the top of Bartsch's powerful and often rhythmical, repeated phrases which command attention.
This isn't so much minimalism in the repetition, rather a kind of thickened maximalism full of dramatic chord flourishes by Bartsch and geometric drum patterns pushing in different directions.
As with Seb Rochford's Polar Bear and Neil Cowley the UK, this is music which comes from a very different place than most young jazz players schooled on post-bop and a Fake Book.
Elements of Steve Reich are here alongside free playing, suggestions of film noir and moody soundtracks, and perhaps even the leading edge of post-rock as well as some suggestions of the sound of North African music in aspects of Sha's playing.
The seven pieces here -- all named and numbered as a separate "Modul"-- are all of quite distinct character, yet all somehow reflect and relate to each other.
One of the most interesting and provocative ECM albums in quite a while.