Graham Reid | | 1 min read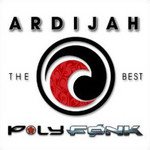 In the decade before hip-hop became the distinctive voice of South Auckland, the Polynesian soul-funk of Ardijah was the most prominent and carried to a wider audience by the singles Give Me Your Number, Watching U and Time Makes a Wine from their platinum-selling 88 album Take a Chance.
Helmed by multi-instrumentalist/writer/producer Ryan Monga and singer Betty-Anne, the band went to Australia where record company litigation prevented them from recording for three years. But they never stopped working there – and here when they returned five years later.

This 19 song collection (with some new tracks and guests) picks up career highlights where classic Motown styles (Smokey, the Jackson 5) sit easily alongside tougher urban funk and seductive reggae grooves. And they always made a fine fist of covers (McCartney's Silly Love Songs went number 1, there's a soul-cruise through Midnight Train to Georgia among the new tracks) although Leo Sayer's Moonlighting sounds a little dated, as does the synth-sound in places.

But the Polynesian influences (Pacific rhythms, ukulele) elevated them into their self-described "PolyFonk". Here are new versions of Haere Mai and E Ipo alongside Polynesian Girl and their take on Somewhere Over the Rainbow (more recently made popular by the late Hawaiian singer Iz).

Betty-Anne's soulful voice doesn't resort to Idol-like over-emoting and this collection reminds you what an important, influential band they were. And remain.