Graham Reid | | 1 min read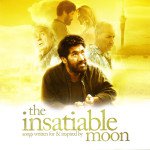 Soundtrack albums of songs -- as opposed to a commissioned score -- should be perhaps reviewed in the absence of having seen the movie. That way you find if they hang together as a stand alone item.
Not having seen this much acclaimed film about marginalised people in an urban society (the mad, unfortunate, deluded and different) means these 11 songs are to be taken at face value as an album.
It's pleasing to hear the inclusion of two songs by samRB whose album has already appeared at Elsewhere (here) and let's hope that brings more attention to that debut. Longtime Auckland street musician Luke Hurley impresses for the persuasive power of his songs and delivery, the late Mahinarangi Tocker is always worth hearing, and Miller Christen-Yule's two tracks hints at something taking shape with him. AJ Bell hasn't been around in a while so always good to hear him too.
But the spoken word sections peppered through make little sense if you haven't seen the film, and become intrusive on repeat play (as they almost invariably do) and perhaps sound more portentous than they are in the film.
Subtitled "Songs Written for and inspired by The Insatiable Moon", this collection mostly serves to introduce some and confirm the place of others -- but I'm guessing the songs by Johnny Matteson (It Must Be Love, Crazy People) might be of the "inspired by" category, they seem too literally taken from the storyline and dialogue (and the latter is weirdly bleeped for language).
So, as with most such soundtrack collections, a mixed bag.