Graham Reid | | <1 min read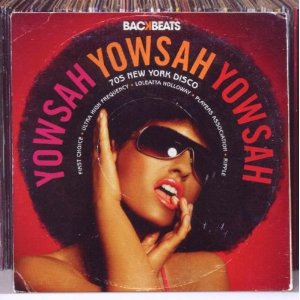 Some music -- even from the first few bars -- is time-specific. The merest whiff of a particular drum sound and guitar can conjure up rockabilly of the Fifties, and some beats plus swooping strings or a horn part can just scream "disco" at you.
In that case, this 11 track compilation is unnecessarily subtitled because you get its straight away: New York + Seventies. It's disco, and another in the Backbeats series which has pulled together similar collections of Chicago House of the Eighties, Seventies dance classics from Philadelphia, Seventies Northern Soul, soul and boogie . . .
This one might ring your bell if you want the full 10 minute soar of the remarkable Loleatta Holloway on Hit and Run where she starts on an impossibly high note then goes up from there before coming back down for an orgasm or two. It's astonishing.
She's the most familiar name here perhaps (unless in the disco era you were tuned in to Moment of Truth, Ultra High Frequency and Players Association).
This is 77 retro minutes of non-stop dancing, chipping guitar licks, ripping bass, electric piano, tight horns . . . and the utterly generic Ripple who needlessly promise The Beat Goes On And On. Indeed it does.
Holloway's Hit and Run? What a voice!