Graham Reid | | <1 min read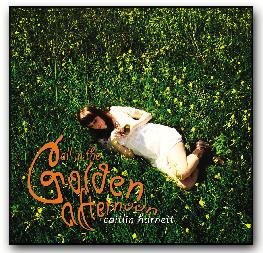 Working in that vein of "sensitive singer-songwriter", Sydney-based Harnett keeps things clear and simple here in a series of six songs which -- like Flip Grater's When I'm Awake I'm At War -- deliver everything in the first person to/about the unspecified "you".
Make what you will of that, I find it broadcasts on a narrow emotional frequency.
That said (as with Grater's album), there are some delightful songs here and -- although Harnett's style is that of a coy, innocent sweetness -- the folksy style (Into the Wild) and light pop (Your Ghost) suits this material well.
Harnett is a distinguished writer on the evidence here and each song works like a self-contained miniature, elevated by the arrangments for banjo, organ, melodica and so forth . . . which keep it from veering too far into the twee.
But my reservations of the I/you remain -- although there's no denying these songs do seduce you in.
Pity they didn't edit out the first few minutes of the clip below, it is tedious until they finally get going.