Graham Reid | | 1 min read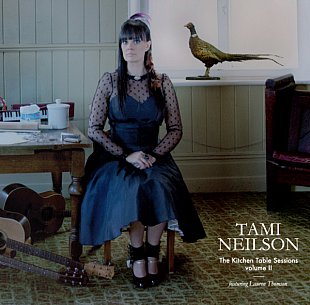 When reviewing her previous album The Kitchen Table Sessions Vol 1, I noted the promise of the title and looked forward to Auckland-based Neilson getting back around the table in her brother's house in Canada to deliver a follow-up.
This time she took with her singer-songwriter Lauren Thomson who plays guitar, sings back-up in places here and shares the lead on the rollicking and salty co-write No Good For My Soul -- which also appears on Thomson's Chanteuses and Shotguns album recorded at the same time.
Neilson is a gifted songwriter who has that skill of being able to find a deep emotion and deliver it with convincing honesty. Between the opener (a foot-stomp, harmonica-honk spiritual Hey Mama) and the closer (a soaring a cappella treatment of Don Gibson's country classic Sweet Dreams, the hit for Patsy Cline, recorded back in New Zealand) Neilson essays gentle bluegrass, insightful ballads and some goodtime country (among them a version of McCartney's I've Just Seen a Face).
Neilson also has a way with an intelligent, self-aware lyric as on the measured , sentimental but never mawkish Great Day: "Grow up, got married, don't the days fly fast. Half of my tomorrows are in the past. Now supper's in the oven and it won't be long, and I'm in the kitchen singing homemade songs. It's a great day to be loved".
The centrepiece is the soul-baring and melancholy This Town which sounds like a newly minted country classic in the manner of Kris Kristofferson at his best: "When I roll into this town, first thing I wanna do is leave . . .the gossips' hands are full of time and somehow it becomes a crime to the nerve to run off chasing dreams."
Those lyrics, delivered slowly over weeping steel guitar, have their counterpoint in the more telling revelation: "When I reach my hotel room, first thing I'm gonna do is cry . . . I'll pour a glass of wine and drink a toast to the nights alone, and endless highways that I roam . . . looking for that home I'll never find".
This kind of writing -- not to mention her restrained but powerful delivery -- is throughout the album: The Bottle and Me is a woman rejected who takes solace in the bottom of a glass: "Yeah I know just what they all think, a woman who can't hold her drink. Why can't they see, that it's holding me".
Neilson -- who co-wrote most of these great songs with her brother/producer/kitchen-owner Jay -- out-writes and out-sings most other country acts these days. This is music which celebrates life in all its joys and sadness. And in the booklet she includes a recipe for pheasant pie too. A generous album on every level.
On Take Me Home she offers, "singing in the cities, every backwoods town, hoping one day to do us proud . . ."
She has done her family -- and herself -- proud. Again.
Like the sound of this? Then check out this.