Graham Reid | | <1 min read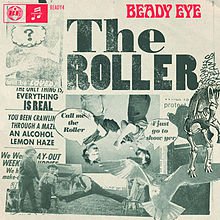 Elsewhere doesn't usually trouble itself with singles -- but this one may be of some interest for longtime Oasis fans, or those just curious to know what's up with the Gallagher brothers since Noel quit.
Beady Eye are Liam Gallagher, Gem Archer and Andy Bell (from Oasis) with Chris Sharrock.
This is the first single from the forthcoming album Different Gear, Still Speeding. There is a video of it here, but I just thought -- given Oasis' long fixation with the Beatles and specifically John Lennon -- you might also like to compare this single with Lennon's Nobody Told Me There'd Be Days Like These from his posthumous Milk and Honey album of '84.
Separated at birth perhaps?