Graham Reid | | 1 min read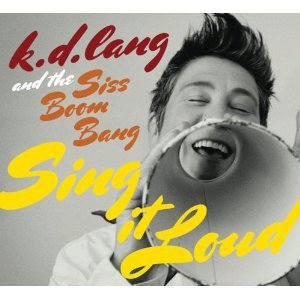 A common complaint amongst those who interpret the lyrics of others is that very few people write good words anymore. Incidentally Sinatra had the same gripe in the late Forties, although some might say he was just picking badly.
Lang here with her new band (and they are superb, more in a minute) has no such problem with classy material, she co-write five songs with producer Joe Pisapia and three with band members which hint at torch ballads, country and nightclub material -- and sound seamless on an album notable for the sheer effortlessness she brings to her deliveries which can often soar in the manner of Roy Orbison or Patsy Cline. She also covers Talking Heads' Heaven in an appropriately dreamy manner.
Behind her the band of multi-instrumentalist offer discreet dobro, organ and country-flavoured guitar and at times you yearn for the instrumental versions of these songs because they are so subtle and entrancing, and at times the band hinting at their inner-Wilco which is held in check by these sophisticated songs (Sugar Buzz).
Lang delivers her yearning ballads with a soulful ache (I Confess which explodes with Spector-like guitars); A Sleep with No Dreaming reaches to that Orbison spirit where there is an upward emotional arc to a winning chorus; The Water's Edge swoons between seduction and a baptism; and Perfect Word is a standout about the battlefield of love with a country flicker in her voice ("the fire from your tongue is burning uncontrollably . . . striking back is bringing out the worst in me, I'm only human after all")
Lang has always kept the spirit of sophisticated Fifties country and pop alive, but brings to it a post-coital languor . . . or the style of a smoke-filled nightclub.

Only the more gritty Habit of Mind here (which includes the unworthy "I've lost my edge, it's left the building like Elvis, again" before seeming to change subject) sound an ill-fit in this context.
But as for the rest, Lang and her excellent band bring suggestions of various styles into her world and she inhabits them ease.
Like the sound of this? Then try this.