Graham Reid | | 1 min read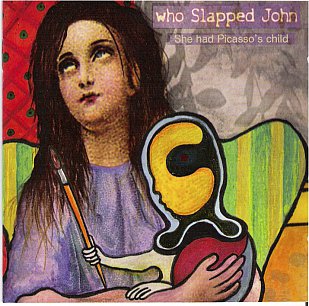 On a late-night (for him) phone call from the UK, Allan Evans -- who is Who Slapped John -- says although he hasn't lived in New Zealand for decades he still feels himself a Kiwi.
Which is unusual for someone who was born in Liverpool, emigrated to New Zealand with his parents in the early Sixties, played in bands at high school and around Auckland (among them the Snipes which played at Sweetwaters, then Who Slapped John) and returned to the UK in '87.
Over there he did some film soundtracks, hooked up with Paul Gilbert -- another British-born expat Kiwi with a similar backstory -- and Carolyn Salkeld to form another version of Who Slapped John. They recorded the album Daily Dilemmas in the mid Nineties.
Then the others walked away so now Who Slapped John is a one-man operation by Evans and he recorded this album with a number of friends and ring-ins in a home-built studio in the house he was living in.
From all that -- and the band name -- you might guess this is a little quirky, and the opener is a delightfully uplifting brass band piece entitled The Traffic Wardens Picnic. Later there is a piece People Who Wear Ties in which various people recount a litany of names of necktie wearers (James Bond, John Lennon, clowns, Twiggy, Top Cat, my brother, Robert Mugabe . . .) over loops and various industrial-grind effects.
The rather disconcerting The Hog comes to life over various effects and whispered voices before establishing the singer is "the hog, I am selfish beyond reason, I'm a vagrant, liar, a whore, I am dirty, vile, deceitful . . ."
Sounds all a little Zappa (this one) or Bonzo Dog, perhaps?
But . . .
What Happened To 18 is organ-driven funky pop over Stevie Wonder keyboards and wah-wah (with horns and violin); Falling is wistful ballad about the emptiness of social success, the company car and the new wife ("One day when the coast is clear, gonna pack my bags and get out of here"); and In Your Shadow is a delightful piece of classic, effortless and understated pop with violin and cello (but with a twist in the lyrics).
What Makes It So Fantastic? is a dreamy, gentle instrumental with accordion over cheap beat-box rhythms and what sounds like coital sighs. You can hear Evans' background in soundtrack work.
And there's a jazz ballad quality to Josephine with its piano, trumpet, bass and drums.
Evans/WSJ certainly covers a lot of territory and while not everything works (The Hog will be an acquired taste, as will the retro Enz-like rock of Free) you have to admit there is plenty of colour and musical swevres here to keep your attention.
Never less than interesting.
Both Who Slapped John albums -- the reissued Daily Dilemmas and She Had Picasso's Child, CDs or as downloads -- are available from Amplifier.
And there is more WSJohn info at Evans' website here.