Graham Reid | | 1 min read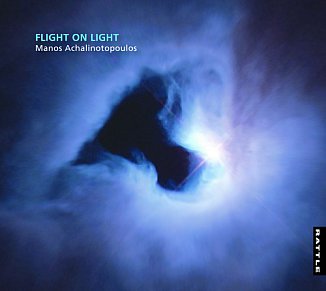 In the rather fruity liner notes here -- admittedly in translation -- the Greek clarinet player Achalinotopoulos speaks of the ocean of his childhood and how he imagined horizons from above, of here flying into uncharted territories of the unconscious, and of "one clarinet narrating seven stories, each in a continuous stream". And of not being limited by "the barriers of pattern, form or style".
His journey was "a flight on light".
This is a rather more poetic description than one might apply to, for example, ECM saxophonist Jan Garbarek's slightly frosty explorations in similar zones where the sustained tone of the solo instrument rides over a sonic backdrop. But sometimes the emotional effect is not dissimilar to Garbarek.
In fact Antara/Fog here -- a co-composition with New Zealand composer John Psathas, here on synths -- could easily have come from Garbarek's similarly lonely instrument.
Psathas gets co-credit also on the opener Heliotrope (where he uses loops and sequencing) but that feels less successful in that it veer perilously close to New Age music as that backdrop evokes the kind of washes one hears in "massage music" while in the foreground the clarinet makes it sinuous way, sometimes obliquely referencing Middle Eastern melodic accents.
The other co-composition with Psathas (and producer Steve Garden) is Iris Flight, the sole track where an ensemble appears: three percussion players, Garden on drums, bassist Olivier Holland and soprano sax player Chris Mason-Battley. This is a much more satisfactory piece as the moods shift, especially when Holland enters with a briefly singing solo passage towards the end to take it out.
Elsewhere here are the very woody sounding Dragonlake (with co-composer Tim Prebble on synth-like rushing wind) which aches and cries across a blizzard-swept landscape; the airy but dramatic Crystalline Athos with hints of North African melodies and David Downes on chimes, various gongs and sonic clashes; and the lovely and soulful Morning Aura again with Prebble where much is effectively left unstated.
The closer -- co-written with Garden, and Mason-Battley back -- is the brief Horizon of Remembrance where again snow sweeps the landscape in Garden's sonic design and distant bells (stranded vessels?) sound in the half-light. Eerie.
This is perhaps more an interesting album than an essential one in Rattle's handsome catalogue, but at its best -- and that counts for at least two thirds of what is here -- this is music which can certainly transport you, perhaps even to those horizons from above.
Like the sound of this? Then check out this.