Graham Reid | | 1 min read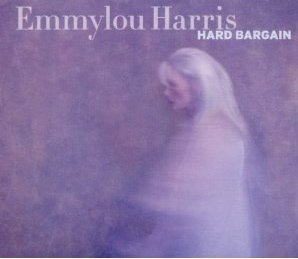 Emmylou Harris is now 64 but her voice sounds as beautiful as it always was, although it seems a little lower these days, but no less affecting.
On this album the woman known for her interpretations of songs by others writes three and co-pens eight others with Will Jennings, which brings a more autobiographical quality to some.
The opener The Road for example refers to her former companion Gram Parsons ("how could I see the future where you would not grow old") but, moving though it is, some of the lines and images seem trite (traveling under a lucky sun, the road will never be the same, I wandered in the wilderness, three chords and the truth . . .)
Goodnight Old World is an address to her grandchild and a meditation on the passing of time and "the trouble I've seen", but the peak of her writing is in Darlin' Kate which is a heartfelt farewell to the late Kate McGarrigle ("free from the pain . . . as you slip the surly bonds of earth and slip away").
Lonely Girl adopts a similarly reflective tone, an old woman looking back on a relationship she lost and still regrets.
She isn't afraid to rock out too however: New Orleans rides a hefty backbeat as she sings about that fated city when the hurricane and floods came. Six Cadillacs kicks along in a swamp rock style and Hard Bargain (by Ron Sexsmith) has a country feel with banjo and backporch drumming.
My Name is Emmett Till is about the black teenager who was murdered in 1955 for talking to white woman while he was in Mississippi , the same Till who Dylan sang about in '62. Harris' song tells the story literally but then adopts a more dreamily optimistic tone and production than Dylan's barbed swipe.
Harris here paints with a broad thematic brush although the production enhances the small details. But much of this feels airbrushed within an inch of its life. So aside from the uptempo numbers and the farewell to McGarrigle, which deserves a sensitive production, too much here sounds polished and sweetened in the studio when some grit might have served these lyrics better.
Like this genre? Then check out this woman.