Graham Reid | | <1 min read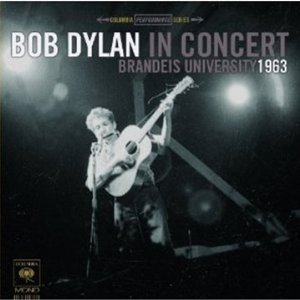 As has been noted here, there is a lot more of Bob Dylan's past out there in the world than there ever was -- and of course he has quite some past.
This from the very distant days in May '63 was recorded at the peak of his politicised folk period (the anthems Blowing in the Wind and Masters of War, the former not here, would be on his album released a fortnight later).
So while delivering exceptional versions of Masters of War and the Ballad of Hollis Brown, he was also still in the shadow of the nuclear threat (Talkin' World War III Blues), and of Woody Guthrie with Talkin' John Birch Society Blues (a one-time joke which doesn't bear too many repeat plays) and Talking Bear Mountain Picnic Massacre Blues.
Rarely had solo folk performers possessed such magnetism and charisma that they were able to hold the attention of large audiences, but the commanding political content here added gravitas to the young Dylan (still weeks shy of his 22nd birthday).
Some of the topical references here (pop singer Fabian, George Lincoln Rockwell who founded the American Nazi party) will go past many people and his ramblin' persona in Bob Dylan's Dream was quickly shown to be an affectation.
Certainly the best and most enduring of these seven songs are Hollis Brown and Masters of War.
Interested in more on Bob Dylan, then start here . . . and be prepared for a long journey.