Graham Reid | | 1 min read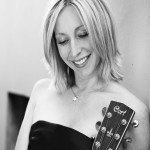 This fine New Zealand singer-songwriter isn't one to hang around obviously. She's already played in the UK and the States, and of course in Australia where she attended the Australian Institute of Music for her vocal studies.
As a songwriter she has a light touch (song titles like Firefly, Ache For Beauty and Lost in You might tell you as much) but she's also got a smart way with a clean, acoustic-based melody line attached to lyrics which scan in an interesting way and often sidestep the obvious. ("It's so exciting, I'm looking at you go, unbelievably inviting, dancing toe to toe . . ."
Ache For Beauty has a hint of Joni Mitchell about it, but again she moves away from any overt influence, and while she references the sky of the Southern Hemisphere in the lovely Stars, she is equally at home writing New York Morning which gives this album a pleasing internationalism (and therefore international potential).
She is also assisted by some stellar studio talent (Bruce Lynch, Nic Manders, Murray Grindlay and others), the arrangements are subtle and supportive and let her considerable vocal and songwriting talents remain in the centre of the frame.
At one point you might have wished for her to add some kick in a few places -- it is all of a similar mid-tempo pace and intimate tone -- but taken one track at a time, each is a strong and convincing stand-alone song.
And that makes for an album which pulls you in, one track at a time.
An impressive debut by any measure from someone you suspect small corners of the world will take to their hearts once they've heard her.
Like the sound of this? Then try this.