Graham Reid | | <1 min read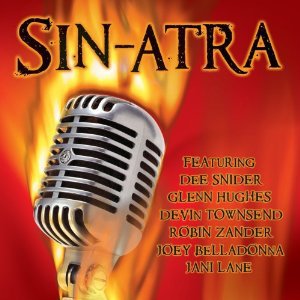 After Hellsongs who take metal songs and render them in a lounge or country-folk manner, this might be subtitled "Metal's Revenge!!!"
Here bellicose and bellowing heavy metal frontmen from Anthrax, Deep Purple, Twisted Sister, Judas Priest, Cheap Trick, Warrant and others take on the catalogue of Frank Sinatra (New York New York, I've Got You Under My Skin, Summerwind, Witchcraft, Strangers in the Night etc) and bash through them with neither subtlety nor style.
Which might have been the point.
Most of these guys sound like someone is stabbing them with a red hot poker and part of the challenge is to see who can abuse or ignore a melody the most. Glenn Hughes of Deep Purple probably wins for his "version" of I've Got You Under My Skin.
Dee Snider gets to do a seemingly never-ending It Was a Very Good Year which rides a Kashmir-like riff. And Robin Zander of Cheap Trick (a band with self-aware humour) weighs in with a sky-scaling Fly Me to the Moon which makes passing nods to the tune.
This can hardly be called "a tribute to the genius of Frank Sinatra" as the promo sheet says, but rather they "unleash hell in a way never heard on these songs until now" as the liner notes admit.
Interesting to consider what Frank might have made of it. I think he'd probably have put in a call to Sam Giancana.
Interested in this idea? Hmmm. Then check out this.