Graham Reid | | <1 min read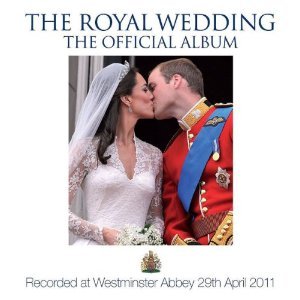 Well, if it was good enough for John and Yoko, and Leon and Mary Russell, why not a wedding album?
In truth, I also have the Charles and Di wedding album (nice gatefold sleeve) and the one for Fergie and Andrew (they scrimped, no gatefold) as well as an album Through Childhood to the Throne about the Queen's "eventful years" preceding the coronation ("A panorama in sound") . . . and the CD Happy and Glorious! which was the official album of the Queen Mum's 100th birthday.
I play none of these I have to say (nor Margaret Thatcher's Salute to Democracy either) but when this William and Kate one came along it was sort of collect-the-series time.
I have played this and Vaughan Williams' Prelude on Rhosymedre is a lovely organ piece, I'm a sucker for a good hymn (and these were sung by the best, right?) and the standout is the choral Ubi Caritas.
There's a lot talking here -- not as much as on John'n'Yoko's Wedding Album admittedly -- and if you missed the ceremony or just want to relive what you watched, then here is the whole thing, vows and all.
I missed the wedding, came in, turned on the tv and by chance saw That Kiss. But it looks like it was blast . . . if the clip below is anything to go by.
I shall now quietly file this alongside all those other royal albums I have. I wonder if it's on vinyl?