Graham Reid | | <1 min read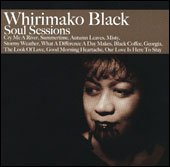 Black's two previous te reo album - Tangihanu (2004) and Te Kura Huna (2005) - were compellingly beautiful and weaved between soul balladry and slightly esoteric jazz, but never lost sight of the spirituality which drove them.

Black's voice is a thing of great sensitivity, and those albums should have made her a household name. Surprisingly they received few mainstream reviews here and locally Black remained respected, but too little heard.

Which may, or may not, explain this album: 11 jazz standards, seven translated into Maori, among them Stormy Weather, Georgia, Summertime and Misty.

Once again Black sympathetically takes listeners to the heart of a song, brings that soft but strong and supple voice into focus on the familiar melodies and, in the company of fine Auckland jazz musicians, brings a fresh perspective to songs which sound written by and for her.
Another gem.