Graham Reid | | 2 min read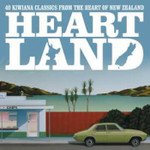 From time to time I am approached to write liner notes for albums, and I only ever accept those which I think are interesting -- like the collections of New Zealand psychedelic music under the banner A Day in My Mind's Mind -- or those which make me think a bit.

And a collection of "heartland" radio hits made me think about how far some critics, like myself, are removed from what other people listen to. So I accepted the offer of writing about a double disc collection of radio-familiar songs (familiar even to me who has rarely listened to mainstream commercial radio). I recognised every song.
So this is what I wrote . . .
As someone often described as a "music critic", I know my taste is rarely in tune with that of radio programmers. But I'm also honest enough to say I can't often pick a hit. And radio, by its very calling, is about hits.

Music critics are strange creatures who often seem to recoil from the idea of hit songs. But I've never been one who thinks music should be an endurance test, or that one form or other is somehow "better for you" or "superior". I unashamedly love pop songs (I grew up when the three minute pop single was an art form) and there's nothing I like better than hearing a great song float out of a window or from a car radio.

This collection is full of great New Zealand songs – and we know they are because at some time or other they made people dance (Do the Blue Beat, Sensation, Montego Bay), touched people's hearts (Till We Kissed, Listen, Andy), and made us think (Damn the Dam, Smiley which was an anti-war message wrapped up in MOR pop, Black Pearl) or laugh (We Don't Know How Lucky We Are). And sometimes told us something about ourselves and who we are in this world (What's the Time Mr. Wolf which will always be associated with Once Were Warriors)

Or just made us feel good: Doctor, I Like Your Medicine, Magic, Yesterday Was Just the Beginning of My Life, I Need Your Love, Tumblin' Down . . .

They say the best music writes itself into your autobiography – and I would bet that there are many, many songs here which mean something special in people's lives: a wedding, teenage parties, beach days, the loss of a family member, first love, first heartbreak, dancing like a loon beneath the moonlight just because you could . . .

More than a third of these songs were number one hits and more than half won music awards. That tells me a lot of people – among them "music critics" obviously – felt something deeply for this music.

These song were hits which got into people's hearts. Heartland music, I guess.
Like the idea of a collection of New Zealand songs like this? Then check out this.