Graham Reid | | <1 min read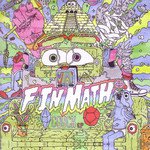 The witty nom de disque here belongs to Michael Logie, former bassist with New Zealand's Mint Chicks who makes some steps as a solo artist working with computers, electrobeat and processed vocals.
You can guess the words "squelchy" and "edgy" will be applied to this -- as they invariably are when lo-fi computer sounds are being generated -- but in places Logie has something more interesting going on: behind the neatly clattering beat of Fish of Pre-History there are evocative skitters of sound and an effortlessly lovely melody (deliberately?) buried; there's an equally decent if monochromatic power pop tune somewhere in the flat-tack Don't Look Down; and behind the staccato and emotionally distant sound of Paint the TV addresses that disconnected generation which, in this world of social networking, watches television because it is lonely and bored.
At six tracks this is more a calling card than a completely realised project -- the title track is a fun "burn the couch" hook (a $25 Gary Numan from a Dunedin flat) but doesn't go anywhere, Aether Teens sounds voco-processed out of existence -- but there is enough of interest here to make you wonder if this project goes much further, and if so how . . . and to where.
(NB: the song on the clip below is not on this EP)
Like the sound of this? Then check out this.