Graham Reid | | <1 min read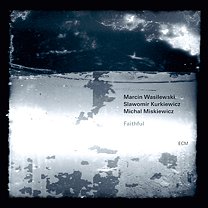 Pianist Wasilewski who leads this trio has appeared a number of times previously at Elsewhere, with this group, as a member of Tomasz Stanko's ensemble and with trumpetr Enrico Rava. He -- and his trio -- has impressed every time.
But this album finds them really pushing themselves: Night Train to You is a 10 minute piece which swings and is full of sparking, energetic piano; the album takes its title from the Ornette Coleman ballad from the Sixties (on The Empty Foxhole) which is given and engrossing, stately and refined treatment; the gently handled standard Ballad of the Sad Young Men is spare to the point of almost evaporation (proving this trio are as much in the lineage of Bill Evans as the ECM/European tradition); and they take a sprightly run through Paul Bley's Big Foot and pepper it with a dose of quirky, Monk-like wit.
But it is Wasilewski's compositions (and the rare interplay within this well established group) which also commands attention here. At 10 minutes, Mosaic is one of those finely wrought pieces which invites you in by gentle beckoning them starts off on a lively, foot-tapping trip propelled by Michal Miskiewicz's subdued fire-cracker drumming and Slawomir Kurkiewicz's singing bass. A real treat.
By the sheer number of albums it releases, the ECM label is very hard to keep apace with -- but this one is certainly worth stopping for.
Like the sound of this? Then check out this.
FOR OTHER 'BEST OF ELSEWHERE 2011' ALBUMS GO HERE.