Graham Reid | | <1 min read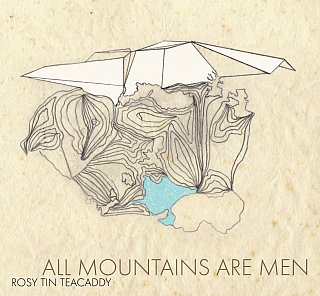 The Department of Conservation seems an unlikely sponsor of local music, but under its Wild Creations artist-in-resident programme the indie.folk duo Rosy Tin Teacaddy (Andy Hummel and Holly Jane Ewens to their parents) spent six weeks at Lake Tarawera and wrote what became this gently delivered concept-album collection released a fortnight ago on the 125th anniversary of the Tarawera eruption.

The opener announces the album/trip ("the wagon awaits, ladies and gentlemen your journey's about to begin") and in a gentle arc the songs trace the emotional and geological disturbances around the eruption.
Although the music and production harks back to old folk with found sounds and strings, references to "Vegas" (presumably Rotovegas) and "an old camera flash, standing like you're Johnny Cash" shift this beyond folklore into a more off-beam world of the present re-imagining the past.
Blow Your Top is a jaunty piece about the eruption from the perspective of the lake, local birds know "the sky is falling on our head, soon we'll all be dead" in Bucketful of Bones, and Beauty, My Dear and the piano ballad Departure at the end are achingly lovely.
Everywhere lyrics allude to more than they state and by delivering less (musically and in spare lyrics) RTT have produced a slightly mysterious collection inviting return visits to fully grasp its enticing nuances.
Like the sound of this? Then check out this.