Graham Reid | | <1 min read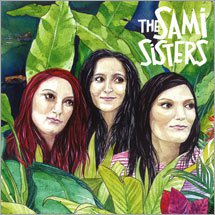 Although a number of struggling and serious musicians have already, in my hearing, bemoaned the amount of publicity and profile this album is generating on, largely, the back of sister Madeleine's acting career, it would be a pretty hard heart that didn't melt just a little in face of these sassy pop songs.
What makes it so smart is not just the clever production (Ed Cake with the sisters and Jeremy Toy, mixed by Tchad Blake) and the arrangements, but its content and stylistic inclusiveness.
The opener Take It or Break It is an open letter to a lover to make up her mind (New Wave pop), Not in Love is beamed in from the late Fifties, Blame It On Me is early Sixties girl-group drama, and Oh Boy hints at both the Fifties and contemporary urban r'n'b and is about breaking up in the modern manner (via your status on Facebook, of course).
Yes, the Sami Sisters may not be in for the long haul -- nor were Shortland Street's chart-bothering Katene Sisters -- but you can't deny the charm and sass of much of this. It's fun and that's a rare enough commodity.
Unfortunately when this takes its subject matter of breaking up seriously -- the earnest Eighties-styled Closer seems a very long three minutes, as does the downbeat Upside Down -- it is considerably less interesting.
But the best here -- among them the potty-mouthed Same Ol' Same Ol' which has a touch of country-rock about it -- is deserving of serious (and not-so serious) attention.