Graham Reid | | 2 min read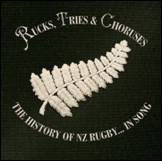 Could any other country on the planet compile a disc of rugby songs? Maybe Wales? South Africa?
But how many could get two discs worth of songs (comedy, serious, some sung by former players) which are this much nostalgic fun.
We might take rugby seriously in New Zealand, but are clearly not that po-faced when you go through this exceptional 33 track compilation pulled together by the estimable Grant Gillanders.
Among the All Blacks featured are the great fullback George Nepia singing Beneath the Maori Moon (1936) and one-time captain Pat Vincent on the ballad Slow Boat to China (1960), but it is in the comedy tracks where this is something quite special.
The Howard Morrison Quartet's My Old Man's An All Black (1960) had a political subtext about the forthcoming tour to apartheid South Africa ("There's no Horis in that scrum") and hasn't been easy to find in recent years so its inclusion is important. And funny.
Gerry Merito of the Quartet poked again at a Maori loss to the Springboks in The Maori Springbok Song ('66) noting "there's no Pakehas in that scrum".
Parodies were common: Big Don by Doug Catley and the Fernleafs was Big John with the words changed, Paul Walden with Garth Young weigh in with When the All Blacks Go Marching In.
Elsewhere there are rock'n'roll rugby songs (the truly awful John Pike and Hop Owen and the Hop Heads with Rugby Rock in '60), the Canterbury Rugby Team's celebration of reclaiming the Ranfurly Shield in '70 (The Name of the Game) and Mooloo Magic's Up and Under from '80 acclaiming the Waikato front row.
And then there's the high camp of Des Gay and His Foolish Fags on Pine Tree Des Gay in '74 which isn't so much politically incorrect as dated nudge-wink humour.
Great All Blacks are acknowledged (Wilson Whineray, Fergie McCormick on Lew Pryme's remake of Sink the Bismark as Fantastic Fergie) although Garner Wayne and his Saddle Pals' All Black Hall of Fame in '70 sweeps up 64 players in four and a half minutes.
There are serious songs: Gray Bartlett and Brendan Dugan's All Black's Song from '76, the synth-slashed We Know How to Win from '87 with vocals by Bunny Walters and Hammond Gamble, Rob Guest's Celebration which was the official '87 Rugby World Cup Song.
There is The Silent Majority's Let Them Go of '85 which was demanding the All Blacks go to South Africa despite anti-apartheid protest movement (because we've got the best team). Regardless of what you think of the sentiment, it's pretty awful.
The counter-argument was Don't Go by Right Left of Centre which was a supergroup (Don McGlashan, Ivan Zagni, Chris Knox, Mark Bell and many others). It's not much better although of course has a more clever beat and Afropop guitars, and got to number two on the charts.
And there some you aren't quite sure of: Murray Grindlay's Give 'Em a Taste of Kiwi got the crowd going but . . .
Grindlay also weighed in with the exciting Celtic rock of Haere Ra in 2003 (sung by Fiona McDonald), and Ian Morris wrote the handclap hip-hop My Black Jersey in '05 with Papa-Pa (Rawiri Morell) on persuasive vocals.
And there is more: Deane Waretini, John Rowles (with Feel the Fire recorded especially for this collection), Franko Heke . . .
This chronological account does show however that we had a better sense of humour before the professional era.
We seemed to come over all anthemic and serious ("don't mess around with the men in black") in the past decade or so, which makes the Miramar Chess Club's I'll Never Be an All Black of this year a welcome respite from the recent chest swelling and cliched nationalism.
But any way you cut it this is quite some collection and tells us something about ourselves.
Netball's a big game in New Zealand, innit?
Hmmm.
Like the sound of this? Then check out this guy.