Graham Reid | | 2 min read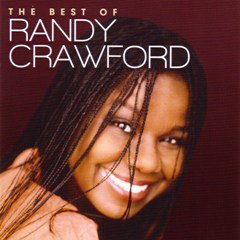 Gosh and oh gee. Another Randy Crawford compilation. Is there no end to these things? They seem to come around about every five years or so -- and of course the track listing is always much the same.
So rather than "review" this one here is an interview with Randy from '99 in advance of a New Zealand tour which you might take some amusement from . . .
On the line from her management office in Los Angeles this week, pop-soul chanteuse Randy Crawford laughs about the earthquake which recently shook the city and popped a train off its tracks in the nearby Mohave Desert.
"Just another day in LA," she chuckles, saying that yeah, she woke in the night and thought uh-huh ...
However, quite what her days and nights usually hold is more difficult to discern.
Although good humoured, Crawford -- who gained fame in the early Eighties with a string of hits including definitive versions of Rainy Night in Georgia, You Might Need Somebody and her signature tune Street Life among many others -- is mostly unforthcoming.
How her life has been since the hits have stopped coming is difficult to get to.
She says she's just recorded a single which she is hoping will lead to an album, otherwise she offers that she still makes concert appearances and is looking forward to her New Zealand tour -- perhaps her third, she's not certain.
After that, a professional and disconcertingly detached veil of humour closes down any further avenues of inquiry, whether it be about future projects or her relationship with a record company which must have paid the phone bill for years on the strength of her various Best of or Very Best of albums.
But ask about recent non-event albums (Randy, Randi from last year which had the shelf-life of seafood) and she can quickly rattle off a list of albums -- the titles of which might not even be familiar to the most devoted of fans -- some of which have appeared on a small label out of Germany. A far cry from her days as a hit-maker on multinational giant Warners.
It's telling that the website amazon.com puts her in the category of "whatever happened to?"
Crawford laughs about her changed status - suggesting with a tart aside that maybe she needs to come to New Zealand to hear about it - but says "the sun always comes up" and she can't say what her schedule after her tour here will be.
"I'm not clairvoyant. The last time I went to one of those clairvoyants she told me I'd never have sex again, and look what's happened."
It seems overly inquisitive to inquire just exactly what did happen.
She says she matured a little bit, is "still performing" and "singing beautifully," doesn't get too upset about anything these days and listens to all kinds of music about which she offers, with that insight only superstars have, "If it's good it's good, and if it isn't, why go there?"
She's also happy to be coming back to New Zealand where she will perform a "hits tour" sharing a bill with the Rodger Fox Big Band and LA saxophonist Bob Sheppard.
And while Crawford might not be the most forthcoming of interview subjects or even someone in the forefront of contemporary jazz, soul or pop, she can claim to be able to effortlessly fulfil a contract which says, "sing your hits."
She's certainly had her share.