Graham Reid | | <1 min read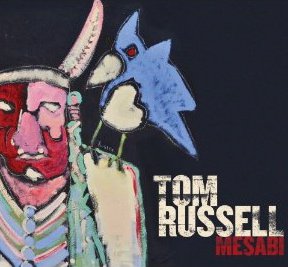 Although American singer-songwriter Tom Russell's name isn't as widely known as that of Joe Ely, Townes Van Zandt and others, his songs have been covered by Johnny Cash, Peter Case, Iris DeMent and many more, and his story-telling tied to a backbeat has consistently drawn praise from critics and peers.
Jerry Jeff Walker, poet Lawrence Ferlinghetti, Ramblin' Jack Elliott, Eliza Gilkyson and others appeared on a tribute album four years ago, and here Lucinda Williams and Calexico join him on an earnestly slow, nine minute and somewhat dreary cover of Dylan's Hard Rain's Gonna Fall.
A cinematic writer who paints word pictures and populates his songs with real people, Russell here alludes to the young Dylan in Duluth listening to Howlin' Wolf and Buddy Holly and leaving suburban expectation behind, tough guy Fifties character actor Sterling Haden drunk in Amsterdam, Liz Taylor chasing "furious love", James Dean killed on the highway . . .
But something doesn't always gel this time.
Many songs are weighed down by narratives with too many lyrics and ride very ordinary melodies, and his characters and stories are frequently stretched into ciphers, metaphors and symbols of the soul of a broken America.
There is little here Russell hasn't explored before and better, and the literariness sinks some of these songs rather than elevating them as been the case previously.
Uneven and, given the high standard Russell has always set, therefore disappointing.
Like the idea of this? Then try this.