Graham Reid | | <1 min read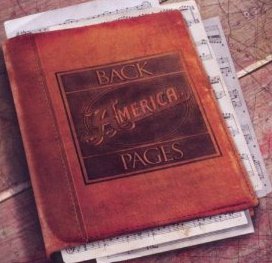 There's a slight irony here perhaps -- America covering other people's songs?
But weren't they the band many thought had covered a Neil Young song with their huge hit Horse with No Name? Certainly sounded like a Young song at first hearing.
This time out though Dewey Bunnell and Gerry Beckley pick up material by Paul Simon (his America oddly enough, which is the oopening track), Joni Mtchell (Woodstock, which makes close-harmony sense), Brian Wilson (Caroline No, again a decent choice for their soft rock approach), the Zombies (Time of the Season) Bob Dylan (My Back Pages, again makes sense given the album title although very earnest) and . . .
And Neil Young's On the Way Home.
Professionally executed with guest guitarist Mark Knopfler (on his Sailing to Philadelphia) and Van Dyke Parks (accordion on My Back Pages), but ultimately an anodyne collection of songs which still resonate more strongly in their original versions.