Graham Reid | | <1 min read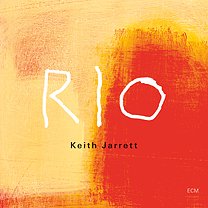 In one of the most colourful ECM covers in memory comes this equally vibrant solo piano set by Keith Jarrett, recorded live in Rio in April 2011.
This richly textured double disc -- six unnamed pieces on the first, nine on the second -- finds the pianist in total command of his gift for rhythmically complex and melodically unpredictable improvisation.
Jarrett dips (and frequently dives deep) into Latin sounds and sometimes veers towards the muscular invention of Abdullah Ibrahim/Dollar Brand, pulls in some weighty drama (Part V), gets reflective (Parts VI and the gorgeously cinematic ballad Part VII which opens the second disc) but also takes flight in pointillistic minimalism.
He also rocks out, as it were.
In recent years, on record at least, Jarrett's wonderful trio has taken precedence over his solo work. But this one puts his extraordinary ability for singular invention right back in the frame and with its mature consideration and richly textured melodicism (Part VIII on the sublime second disc coherently references baroque to Bartok, Bach to Monk).
This also has some deft humour and sometimes deeply reflective romanticism, and as a result stands alongside the finest of his very long career.
Exceptional.
Like the sound of this? Then you need this.
FOR OTHER 'BEST OF ELSEWHERE 2011' ALBUMS GO HERE.