Graham Reid | | 4 min read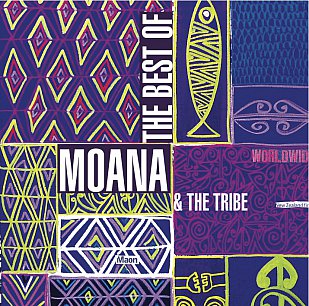 For many years I had thought the best and most powerful music of Moana Maniapoto -- stretched over four albums -- was deserving of a compilation which would remind people what a singular contribution she has made to New Zealand music, even if it went largely overlooked and most unplayed by New Zealand radio.
In late 2011 Moana told me that not only was it happening, but that she would like me to write the liner notes. More of an essay she said, they had the space in the booklet.
I considered that a great privilege, and this is what I wrote and now appears with this fine collection of innovative, spiritual and sometimes politicized music . . .
One of the most carelessly used phrases by sports coaches and corporate high-fliers of recent years has been, "about the journey". Because it requires no explanation but seems rich with implications of struggle and progress, the phrase has become a cliché and meaningless. I've never had much time for it, and have never used it.

Until now.
For me, the music of Moana Maniapoto (Ngati Tuwharetoa, Te Arawa) has been exactly that, a journey through time, place and politics, and not the least through exceptional songs which could have come from nowhere but Aotearoa/New Zealand.
I remember vividly the first time I heard her powerful, haka-inspired dance track Treaty calling for recognition of the Treaty of Waitangi (a more radical assertion in the mid Nineties than it is today), the subtle groove of Ancestors about Ngai Tahu and the spirituality of their South Island landscape, and the clear cultural assertion of the hypnotic Moko. And more recently the dramatic and fiery urgency of Te Apo which wove in street sounds from the 2006 protests at the WTO conference in Hong Kong.
Moana's music has drawn from American soul, taonga puoro (traditional Maori instruments), feminist empowerment, tino rangatiratanga (Maori self-determination), hip-hop and contemporary dub. And from waiata and a deep well of intuitive spirituality.
She's the only musician I know who could present an album (Rua in '98) which dealt with the Maori grievances and prophecy, love of the land and ancestors, and end with a moving version of Ave Maria accompanied by Maori girls from the Catholic school choir she was once a part of.
In her hands such diversity makes perfectly good sense because she was trained in kapa haka at St Joseph's Maori Girls College in Napier under the formidable Georgina Kingi (who also taught Whirimako Black, Hinewehi Mohi and Maisey Rika), became politically aware while a law student at Auckland University during the 80s and found her musical footing at a time when pop, soul, reggae, rap and waiata were all part of the contract.
This astutely non-chronological compilation invites you into a discovery of the music of Moana and her various groups, first The Moahunters and then from 2002 The Tribe.
The collection opens with a haunting and evocative call by Richard Nunns on putaatara (conch) then Moana counts us in "Tahi, rua, toru, wha" for a journey back to beginnings in Tihore Mai (written by the late Hirini Melbourne) with its celebration of, and respect for, the natural world. The sonic landscape remix of Tahi which follows is about the great voyages by waka (ocean-going canoes) from Hawaaiki to Aotearoa and the unity of purpose among the people at that time.
Then with Timor we are in the postcard Pacific with the seductive escapism of tropical life, palm trees and a warm breeze. But this world isn't idyllic any more. There is "fire in paradise", and "Timor" becomes a cipher for any troubled part of the region struggling with post-colonialism.
Treaty which follows posits a solution (a treaty which "won't go away" written in the hearts of all people) and Black Pearl, an anthem for women, which was Moana's first gold disc and number two on the charts back in 1991.
The inclusion of Black Pearl – cowritten by Phil Spector, Toni Wine and Irwin Levine, a hit for the soul group Checkmates Ltd. in 1969 – reminds me that when American singers Tony Orlando and Dawn came to Auckland a few years ago, Moana was invited up to sing Black Pearl with Toni Wine who was in Dawn. I had played Moana's urban-funk version of the song down the phoneline to Orlando and Wine a few weeks before the show and they had been enthusiastically impressed. There is power, but also gentleness in Moana's delivery – and that spirit imbues Kahu (a metaphorical lyric about reaching for potential) which follows it here.
The mighty Te Apo about the resources and culture of indigenous peoples being plundered by superpowers, the extraordinary Moko, the Pacific-influenced Titokowaru and Rua Kenana (salutes to both the great Taranaki resistance leader and Tuhoe prophet) and the haka Te Tiriti show how Moana and those who work with her weave past and present culture into a seamless tapestry.
Those threads continues through the mesmerising Te Kakano (about disenfranchised potential) and the ballad Te Po where Moana showcases her clearly enunciated, enticing delivery of a lyric. It shines again in the trip-hop of Titia from 2007 (for the late Nga Tamatoa leader then battling cancer) and the acoustic Peace Song.
The outstanding Ancestors is followed by the evocative tone poem of Wha which leads naturally into Pae o Riri, a poetic lament for Maori warriors who have fallen in battles far from home. It is an achingly beautiful, respectful moment on which to end this singular collection.
It occurs to me also Moana's life and music has been "about the journey", literally.
She has taken her songs and musicians around the Pacific, to festivals in Europe and, most improbably, to Vladivostok and through Russia. They have been to the New Orleans Jazz and Heritage Festival (she memorably described to me with some shock and disappointment that famous Tipitina's was "a dump" backstage), launched New Zealand's internationally acclaimed feature film Whale Rider in Germany, performed at the Cultural Olympiad in Greece and represented New Zealand at the opening of our exhibition at a Venice Biennale.
In fact Moana and her groups have performed more often outside Aotearoa than within it, and that has been our loss.
And, shamefully, her uniquely New Zealand music is rarely played on local mainstream radio, because it is in te reo or doesn't fit the format. That has meant her career has often been a struggle.
But Moana – a law graduate (who never practiced because music called her), political commentator, an award-winning film maker with her partner Toby Mills, sometime actor, activist and mother in addition to being a singer, songwriter and band leader – was accorded the New Zealand Order of Merit for services to Maori and music on 2004, and three years later became an Arts Laureate.
She has come a long way. Quite a journey, we might say.
And few music collections like the one you have here encompass as much culture, politics or soulful consideration . . . and with such memorable and compelling sounds and lyrics.
So forgive me I fall back on that cliché we hear too often. But this album really is about the journey.
Make the time to take it with her.