Graham Reid | | 4 min read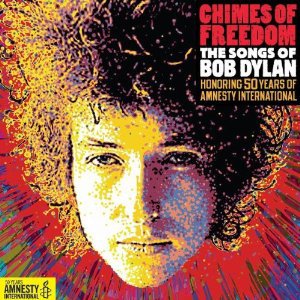 The Word magazine out of Britain recently had a very funny article about this four CD set of previously unreleased songs by artists covering Bob Dylan, profits from which go to Amnesty International.
What the Word did, working on the premise that the set might be a clever way of also getting the bard to a young audience, was to ask kids who hadn't heard of Bob Dylan what they thought of the songs by their favourite artists who were on the collection.
Some of the kids speculated on who they thought Bob Dylan might be, with sometimes hilarious results.
"I imagine Bob Dylan to be quite fat with short hair with blond streaks in it," said 10-year old Freddie Brasher after hearing Lenny Kravitz doing Rainy Day Women #12 and 35 -- about which he also commented "It's quite repetitive, 'everybody wants that stone'."
Clara and Molly McVeigh (8 and 10 respectively) after listening to Evan Rachel Wood do I'd Have You Anytime said "We think the song is by a cool man who has a scar on his face. He has a leather jacket and maybe some boots and jeans".
Rose Patterson (11) heard Adele's version of Make You Feel My Love and offered "I imagine Bob Dylan must have soulful brown eyes and he likes to describe his feelings using songs".
And seven-year old Louis Thomson -- who said "I don't get why the answer is blowing in the wind. How is that an answer?" -- quite liked Ziggy Marley's version and thought Dylan was "a young man with an oval face -- and a nose".
Going the other way however was 19-year old Hannah J Davies who, after hearing Cage the Elephant on The Lonesome Death of Hattie Carroll said, "I reckon the person who wrote this would be a Time magazine subscriber, probably with a beard and some kind of terrible backstory. The lyrical depth reminds me of Elliott Smith and Nick Drake who I connect with".
And so what of the 75 songs here, which closes with Dylan himself singing the title track?
A mixed bag as you might guess. Fans of Rise Against will doubtless find something in Ballad of Hollis Brown but Dylan's original quiet delivery was so utterly engrossing that this bellowing treatment just sounds boorish and the importance of the narrative is lost completely.
Tom Morello and the Nightwatchman bring an impressive atmospherically dark and oppressive tone to Blind Willie McTell, but again the original had as much gravitas and more melody. Michael Franti delivers a pointless version of Subterranean Homesick Blues which misses the unease and anger in Dylan's incomparable original.
But is it fair to compare?
Let's pretend that -- like one of those Word kids -- you know neither Dylan nor these songs. Two things strike you: how malleable his songs are (most artists turn the songs into their own style and image rather than look for a different approach) and that whoever this Dylan guy was he wrote some very diverse lyrics.
But there is more going on in Dylan songs than words.
In his Chronicles, Dylan noted, "For sure my lyrics had struck nerves that had never been struck before, but if my songs were just about words, then what was Duane Eddy, the great rock'n'roll guitarist doing recording an album full of instrumental melodies of my songs? Musicians have always known that my songs were about more than just words, but most people are not musicians".
So some of the versions which are the most successful here are those where the artist pulls out the melody, or a melody which Dylan has suggested if not exactly sung. Or pour something deeply soulful into the song. Diana Krall for example takes Simple Twist of Fate into a rewarding, piano ballad territory which it is possible Dylan purists will dislike, but it is better than they might give it credit.
And Dylan purists -- those who still go to a concert expecting to hear him sing "just like on the record" -- would perhaps be wise to give this collection a wide berth. (Taunting bait for purists is My Chemical Romance on Desolation Row.)
Mariachi El Bronx work their special magic over up a hopped-up Love Sick (doesn't sound so sick); the Gaslight Anthem take Changing of the Guard to a darker, power pop place; Joe Perry should have been advised away from Man of Peace . . .
Those existing along the Dylan axis (My Morning Jacket with You're a Big Girl Now reminding you that their singer Jim James might be one the best Dylan interpreters today) of course come out well. Band of Skulls do an unexpected sensitive and straight It Ain't Me Babe.
Perhaps it's because Sting is such a posturing singer that his Girl from the North Country sounds so awful. But really, it is. He turns it into an elecution lesson.
So yes, a very mixed bag.
But look at this diverse, partial list of artists on hand: Queens of the Stone Age; Miley Cyrus (true, a nice country-folk treatment of You're Gonna Make Me Lonesome When You Go); Anjelique Kidjo (Afro guitars on Lay Lady Lay); Somalian-Canadian rapper K'Naan who grew up in Mogadishu interpolating his own autobiographical lyrics into With God on Our Side; and Persian singer Sussan Deyhim on an exotically haunting All I Really Want To Do.
There's also the Pajama Club (She Belongs to Me); Flogging Molly (Times They a Changin' now a rocking Irish rebel ballad); Bad Religion; Ke$ha (trying too hard to manufacture emotion on Don't Think Twice); Maroon 5 (pretty impressive on I Shall Be released); Dierks Bentley . . .
And the usual suspects: Costello, Bragg, Baez, Kronos Quartet (finding the inner Phillip Glass and lounge orchestra heart of Don't Think Twice), Kristofferson, Dave Matthews Band (Watchtower), Lucinda Williams, Steve Earle with Lucia Micarelli (on a rough'n'smooth One More Cup of Coffee) Patti Smith, Marianne Faithfull, Taj Mahal, 92-year old Pete Seeger (on a cheery valedictory version of Forever Young), Sinead O'Connor (a scratching Property of Jesus), Carly Simon . . .
Buy one for someone who hasn't heard of Bob Dylan and then ask what they think he might look like.
For more information of Amnesty International in New Zealand go here.
There are acres of material on Bob Dylan (oval faced or not) at Elsewhere starting here.