Graham Reid | | 1 min read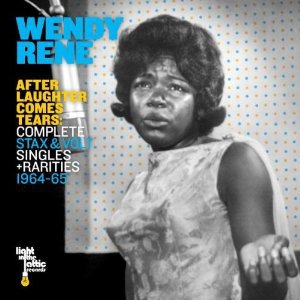 The career of raw-edged pop-soul singer Wendy Rene is remarkably brief as the subtitle of this 22 song collection attests: it is The Complete Stax and Volt Singles and Rarities 1964 -65.
By '67 she had quit music to concentrate on raising her children, doubtless prompted when she declined to fly with Otis Redding and his band on what was their final flight. It was also to be her final scheduled concert appearance as well, but theirs was the more permanent.
Redding had given the young Mary Frierson her stage name Wendy Rene and had been a keen supporter, and during her a short career on Stax (in the Drapels and as a solo act) she had the likes of Booker T, Steve Cropper and other luminaries on her sessions.
Rene was also a songwriter (under her married name Mary Cross) and she could deliver a line of heart aching soul, notably on her single After Laughter Comes Tears which Wu-Tang sampled and adapted, and Alicia Keys remade as Where Do We Go From Here.
But she could also knock out party-time soul-pop which connected to the Northern Soul scene (the boiling opener here is Bar-B-Q), and soul with a classic chorus (What Will Tomorrow Bring).
The number of fine, unreleased songs here -- four and they are all worthy -- alongside singles and b-sides shows, how prolific she was in such a short period.
Rene retired shortly after these sides and in recent years she made something of a comeback but hasn't been happy with her performances. She doesn't have those great players of the old days so . . .
But here are 22 pieces of evidence why she shouldn't be forgotten.
Like the sound of this? Then you need to hear this exceptional collection.