Graham Reid | | 1 min read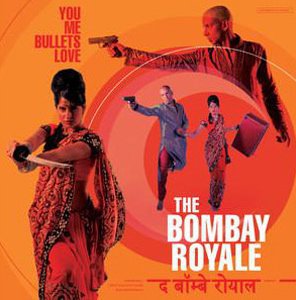 Much as I enjoyed the theatrical conceit of this faux-Bollywood outfit from Melbourne at the recent Womad in New Zealand, I could also see immediately why this album of a faux-soundtrack (with a great title, admittedly) would appeal to the Arts Victoria funding agency which supported it.
The Bombay Royale have exactly the right balance of irony and authenticity which arts funding people find appealling, especially if they see it played out in the comfort and affirming atmosphere of a multi-culti festival like Womad.
To their credit however, here BRoyale are more musically disciplined and focused than they were live where you really needed back projections from Bollywood melodramas to get the full sense of irony/authenticity.
On the day, they were little more than diversionary entertainment in interesting clothes and fronted by "the Skipper" in naval uniform. It was dress-up time and -- like stilt-walkers -- once you've established the idea the issue is simple, "What are you going to do up there now you've got our attention?"
Shorn of that visual component which palled very quickly, this collection actually sparks with excitement, humour and a genuine sense of respect for (but also possibilities of) the idiom.
The originals by sensual singer Shourov Bhattacharya (aka The Tiger) and Andy Wiliamson (The Skipper) sound shaved off from the most melodramatic but exciting end of Bollywood films and are peppered with the contrast between innocence (her) and experience (him).
Having seen them live, I wasn't in the queue for an album.
Then this arrived and despite gut instinct . . .
Lotta fun, and sometimes serious fun.
Maybe Arts Victoria could go the whole route and underwrite the sub-continent sub-Bond surf-rock film (with dancing) which this invokes in your head.
That seems their true calling.
Want to find more Bollywood and beyond? Start here.