Graham Reid | | <1 min read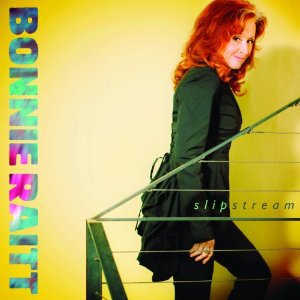 Everyone's favourite slide-playing redhead hasn't had an album since 2005, but from the opener here – a restlessly funky dump on proud snobs who Used to Rule the World – show she's wasting no time staking her claim again.
Produced in part by Joe Henry – whose co-write with Loudon Wainwright You Can't Fail Me Now sounds tailor-made and a yearning partner to her wonderful I Can't Make You Love Me from two decades ago – and with a cracking band, Raitt jumps easily from searing blues (Down to You, Ain't Gonna Let You Go) to cooking rock (Split Decision), from Gerry Rafferty's Right Down the Line (given a reggae blues-rock feel) to deeply understood ballads (guitarist Al Anderson and Bonnie Bishop's song of loss and regret Not Cause I Wanted To).
Marriage Made in Hollywood about a famous OD victim is sassy, pointed and sadly true at the same time ("we all love tragedy . . all you need to be a star is die in public view"), but she really gets under the skin of two Dylan songs from his Time Out of Mind album; Million Miles (bluesy and hurt) and Standing in the Doorway (spacious, stately, accepting the loss of love but full of need).
She's been a long time gone, but she's back.
Want to read an extensive archival interview with Bonnie Raitt? Then go here.