Graham Reid | | 1 min read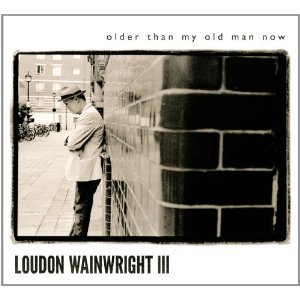 On the second song here the venerable Wainwright names his "favourite protagonist. Me" and that song follows the autobiographical The Here and Now in which he counts down marriages, failures, kids and his career.
And then there is the title track which is about his father, but equally about himself.
If anyone can write this convincingly and often about himself/family/etc -- and he has done it most of his career -- it is the ever-observant, often self-lacerating Wainwright (who sometimes doesn't spare others either).
This album is about "the heavy shit" -- aging, mortality, medications to counter the pain and the final end -- but of course he brings that wry folksiness, a lightness of touch and humour to these matters. And even has Dame Edna guest on the piano ballad I Remember Sex as the other half of an aged couple. It's funny. Once.
Ramblin' Jack Elliott ("perhaps my formost musical father figure") joins him on Double Lifetime ("I don't want to snuff it, three score and 10 just ain't enough") and elsewhere his children Rufus and Martha join him, as do various extended Wainwright/Roche family members.
He also revisits the one song he wrote with his late former wife Kate McGarrigle, the very beautiful Over the Hill -- which was penned back in '75 but is also about the sands of timing running out. It is genuinely moving.
But a jaunty piano piece about taking The Meds, the Dame Edna duet, musing on losing a day crossing the international dateline, a song from beyond the grave (Ghost Blues) and others are the kinds of pieces which you'd be pleased to hear in a concert and would raise a smile or laugh or a sage head nod.
But they hardly bear much revisiting on an album.
However The Days That We Die (like the title track opening with a beautiful and moving spoken word piece by his late father, a Life columnist) will stop you in your tracks as a meditation on the lost relationship.
We will all have to deal with the inevitability of death in our various ways.
Wainwright here chooses glib or black humour ("that something out to get me is out to get you too"). And through flashes of insight. The few of the latter are by far the most successful here.
There is an interview with Loudon Wainwright at Elsewhere here.