Graham Reid | | <1 min read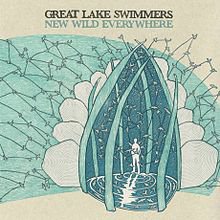 In the manner of fellow Canadians Cowboy Junkies' breakthrough album The Trinity Sessions which was recorded in a church, this award-winning Toronto-based band – the vehicle for songwriter/singer Tony Dekker – built a reputation for albums laid down in places like an abandoned grain silo, old halls and remote locations.
Here however only one song, the Neil Young-like The Great Exhale, was recorded on location (a Toronto subway station in the wee small hours).
So five albums in, they have embraced a studio, and the album sounds crisp, clean and imbued with a slightly melancholy, reflective alt.country spirit which puts them on the same melodic axis as the very early Eagles, acoustic Neil Young and recent Will Oldham/Bonnie Prince Billy, and Dekker's slightly fragile voice adds an appealing sensitivity.
But despite sympathetic arrangements for horns and strings, and Dekker's poetic craftsmanship on material which is undeniably engaging if sometimes aiming for the obvious (Ballad of a Fisherman's Wife about the human cost of oil spills), much of this errs towards the pleasantly familiar.
Words like "exciting", "play it again" or "wow!" seem unlikely to be uttered in its presence.
Not without its moments (among them the dreamy Cornflower Blue, the Anglo-folk ballad Fields of Progeny), but "nice" or "interesting" are hardly compliments.