Graham Reid | | 2 min read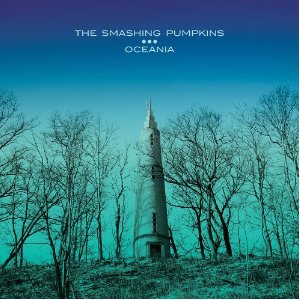 When Smashing Pumpkins splash down for an Auckland concert at Vector on August 4 -- from whatever planet mainman Billy Corgan has been on lately -- it will be on the back of this album which some have hailed as their best in quite a while (not saying much) or dismissed as a typically bloated but aggressively pumped-out edition full of familiar SP drama, melody and noise.
Which, when you think about it, perhaps amounts to much the same thing. A return to form can often mean -- as Red Hot Chili Peppers proved with Californication -- just going back to sound like you once did. There's quite a bit of that here.
Nothing on Oceania however has quite the frisson of delight and zeitgeist gut-punch which informed SP's Siamese Dream and Mellon Collie ('93 and '95 we need to remind ourselves). And Corgan's big dream of concept albums (of which this is a part, too complex to trouble ourselves with) means this leans towards the pretentious in places: "Am I the only one you see, raised from the path of revelry" on the Ziggy-meets-Yes of Violet Rays.
The title track, usually the reason for attention, is a musically sprawling and lyrical prog-rock bore ("I'm so alone, so alone, but better than a wretched world, better than a broken pearl") which shifts from full artillery to acoustic passages to no great effect in its nine minutes.
Certainly Oceania delivers some impressive sonic firepower upfront, but I doubt I'm the first to note that the opener Quasar with its quasi-mysticism and brittle riffery sounds like nothing more than Kula Shaker in some spiritual collison with early Soundgarden: Sort of Hare Krishna Pose, if you get my drift.
And there feels like opportunities lost here: My Love is Winter is full of glorious possibilities but in its quiet-loud arrangement it doesn't allow the wonderful folk-rock song at its core to breathe.
The steadily ascending Pinwheels invites you in for a Really Big Trip but ultimately fails to deliver much more than bombast (and about here, the midpoint of the album, you might be tiring of Corgan's one-tone vocal).
However there are some genuinely affecting things here: the acoustic-driven and string-enhanced The Celestials has a pretty melody and smart arrangement which lets bassist Nicole Florentino come to the fore and hold down the centre; and around the troublesome middle One Diamond One Heart is a big hearted and breezily positive pop song underpinned by a repeated keyboard figure. (So he's listened to early Seventies Who, around the time of Who's Next/Lifehouse?).
Inkless towards the close of 13 songs/one hour offering conjures up their guitar racket of old, and in a pretty good way. Must sound great live. Because we've been here before.
But perhaps it is the familiar here that hardcore fans will respond to (The Chimera and searing Glissandra are terrific, if you want SP of old) but really this is a game of two halves: the half that steps into the present tense, and the other which has one foot in the past.
The trouble with such a straddle is you end up sitting uncomfortably on a fence of your own making.
That's what Smashing Pumpkins sound like they are doing here. In an aggressively pumped-up and familiar way.
Old fans will happily get their tickets punched. Other may take a pass and say deja-heard.