Graham Reid | | 1 min read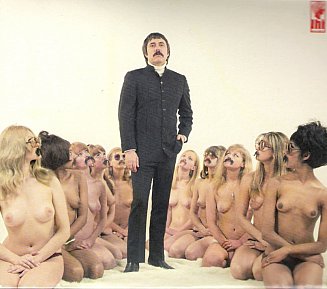 Although Lee Hazlewood (who died in 2007 age 78) enjoys a considerable cult reputation, it rests on two slender, if notable, styles; like Johnny Cash back from the 40 days in the wilderness with a head full of cosmic cowboy visions, and in duets with female singers providing the sweetness to his oak barrel baritone.
Before hitting mainstream attention in the mid Sixties on duets with Nancy Sinatra (Some Velvet Morning, Jackson) for whom he'd written and produced These Boots Are Made for Walking, he'd enjoyed a considerable career as a producer. Notably he'd worked with Duane Eddy and had written/produced some of the guitarists' classic (Boss Guitar, Rebel Rouser).
In the Seventies he relocated to Sweden where he released tiny selling and critically ignored albums on his own LHI label including Cowboy in Sweden, the title of which indicates how he saw himself.
The title of this collection relates as much to the undressed women on the cover (with Lee moustaches) as it does to the songs pulled together from between 1968 and '71, a few from Cowboy in Sweden.
No Nancy Sinatra on these 17 songs (Ann Margaret, Nina Lizell and Suzi Jane Hokom are effective stand-ins), but plenty of orchestrated, barrel bottom croaks of lyrical strangeness, storytelling and sadness (the raw emotion of The Bed).
At times when he reigns in his liberal poetic license -- as on If It's Monday Morning -- he is very close to classic Kris Kristofferson. And his post-coital The Night Before is a terrific evocation of the morning after a boozy party, the aftermath of regret and a possible violation of the woman in the bedroom crying.
There is always plenty of darkness in Hazlewood, some of it melodramatic or of Biblical/mythological dimensions. Sort of a Greek drama played out in Deadwood.
As the song says, Leather and Lace. Good collection of his familiar styles from the late Lee.