Graham Reid | | 1 min read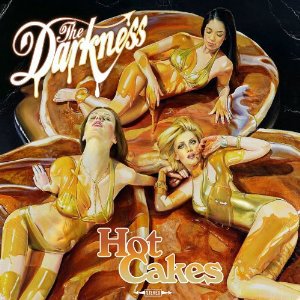 You'd have to have had your sense of humor gland removed not to have enjoyed England's Darkness ("Give me a D", "Give me an Arkness") when they emerged out of Lowestoft, the end of the train line, a decade ago with their glam rock-opera ambitions and a keen sense of the absurd.
They referred to much more famous groups they opened for as their "warm down bands" and their second album was One Way Ticket Hell . . . and Back. They were Queen with Spinal Tap aspirations, but also deadly serious when it came to wanting success.
But then came the departure of their moustachio-ed bassist Frankie Poullain, frontman Justin Hawkins faling prey to addiction then quitting, controversy over whether the remaining members (and ring-ins) would keep the name . . .
Just a messy end for a band that excited as often as it amused.
But as we know -- from the Queen and Spinal Tap stories, if not others -- there is no such thing as an end, even after the end.
So here are the Darkness again -- the original line-up even -- with more of their heroic, falsetto-punctuated, hefty-metal guitar pop-rock. And the album opens with the autobiographical Every Inch of You ("Baby I was a loser, several years on the dole, an Englishman with a very high voice doing rock and roll . . . I wanted to be a doctor, I wanted to be a vet until I heard Communicaton Breakdown on a TDK D90 cassette").
Later on the powerful Living Each Day Blind they also refer to their origins at the end of the line and the need to get out: "There's nothing left for us here, let's face it. We're losing sight of our dream, let's chase it, leave our mediocre lives behind".
Coupled to piercing guitar, Queen-style stacked-up vocals and delivered with a slightly desperate edge, that's a manifesto as much as an anthem for a band which deserves a second act.
Much of this material has been worked out live (smart move) so has all the sensible dynamics, towering choruses and sonic punch which an auditorium audience might demand . . . and it barely matter a jot that they reference AC/DC (Everybody Have a Good Time), middle American AOR of the Eighties (just about everything) and of course the obvious in Hawkins/Freddie Mercury vocals.
The Darkness are cheap drama (Forbidden Love), musical cliches delivered as if they have just been invented (their metal revision of Radiohead's Street Spirit) and straightfaced humour.
I suspect you either get them or you don't.
"Give me D" . . .