Graham Reid | | <1 min read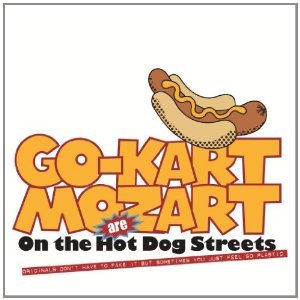 Like Madness-gone-electronic in their often astute and/or witty observations about British culture, Go Kart Mozart is the brainchild of Lawrence (Felt, Denim) who here announces on the first track that "Lawrence is taking over".
Maybe. Maybe not.
While this can be irrepressibly catchy in its pop manoeuvres (plenty of familiar hooks and singalong choruses), and you wouldn't deny the keen intelligence at work (White Stilettos in the Sand adeptly and nastily skewers crass Brits on booze'n'shagging holidays in Spain) much of it doesn''t stand too many repeat plays once the wit has been clocked.
In Lawrence Takes Over he says the A&R man don't get them and think they are a novelty band, and later in Come On You Lot he sings of getting on the telly at nine o'clock alongside Trisha and Kylie because "it was made for scum like me".
That kind of outsider attitude is admirable and understandable and there's a lot to like on any album which sings of steak and kidney pies, the end of The Empire, not wanting to be hurt by women anymore (I Talk With Robot Voice), a wideboy in the market buying collie and other jaded observations of life, but over the long haul the enjoyment palls.
Music for Britain's terraces -- football terraces and terraced houses -- guaranteed to raise a smile of recognition, for a short while at least.
Like Madness though, catchy as hell.