Graham Reid | | <1 min read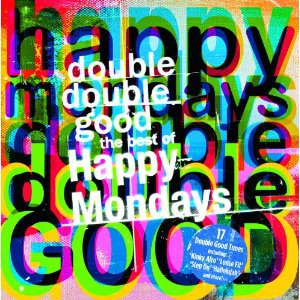 One of the funniest and best gigs I ever saw was Black Grape in New York where a barely vertical Shaun Ryder read lyric from massive cue cards on stage, rapper Kermit bewildered everyone with his inaudible but energetic rhymes and there was a table on the balcony reserved for Blur who weren't even in the city at the time.
It was utter madness and the American record company people I was with just didn't get it at all.
Of course they hadn't seen where this one had come from, not knowing Ryder's previous band Happy Mondays and the whole baggy-meets-house (and a massive amount of drugs).
I do wonder if a new generation would get Happy Mondays today. Their free flowing, guitar-driven tripping out dance music would seem to have a place but . . .
Anyway for all and sundry here are 17 collected Happy Mondays tracks -- which seems to be a tour tie-in judging by a comment in the cover -- including a couple of remixes and the 12" version of the Bee Gees Stayin' Alive.
It's a lot of HM (sounds a bit compressed and thin in the bottom) and prompts the question, whatever happened to E as the drug of choice?