Graham Reid | | 1 min read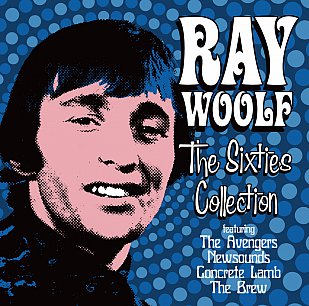 The problem with any Ray Woolf compilation -- a man who has been in the New Zealand entertainment game for 50 years -- is even if it narrows the focus to just his first decade as this does, is: What agenda does it serve?
Even in that decade -- in fact more so, given the tectonic shifts of taste and styles in the Sixties -- Woolf was moving constantly in his musical career: from working with his excellent pop-rock band the Avengers (not the Wellington one, the Auckland one), doing covers of the hits of the day for television shows (more than passably in some instances) and by the end of the decade looking -- albeit briefly -- to the more edgy psychedelic material (as witnessed here by the trippy Bengal Tiger with the Brew and written by Bob Gillett).
Of his brief tenure with Brew, Woolf admits "I soon realised that they were a bit too avant-garde for me. I was on planet earth and they were on another planet way over there somewhere".
There is however also the unexpected garageband rock of the previously unreleased Little Things That Happen (a real highpoint located somewhere between the La De Das and the Who) which, laughably, was the next scheduled single after his lightweight pop hit Crystal Ball.
So what the 28 non-chronological tracks here cover is an enormous swathe of pop in borrowed clothes (covers of La La Lies, the Beatles' I'll Follow the Sun) alongside retro material (a rather good and slow version of Phil Spector/Ronettes' Be My Baby recorded in '68, Fats Domino's Ain't That a Shame, Fortune Teller) alongside standards like Mack the Knife, a bluesy pop-rock/Peddlers-like Summertime and Motown soul (Turn to Stone, and It's the Same Old Song, not his best moment).
And also makeweights like his very popular Crystal Ball (not Mort Shuman's finest moment), Jimmy Webb's MOR Everybody Gets to Go to the Moon, the lightly comedic Just Like Eddie, the early Sixties non-event If You Were a Rock'n'Roll Record (one of his first singles) . . .
So this is a potpourri collection which serves Woolf well in its breadth (and includes a very useful liner essay by compiler Grant Gillanders) and is admirable in its completeness. But if you like the mainstream material you'll skip the more risk-taking rock songs, and vice versa.
Be prepared to have the remote handy or your finger poised over the fast-forward.