Graham Reid | | 2 min read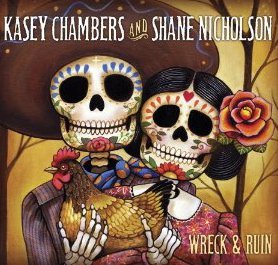 One of the more extraordinary achievements of Australian husband-wife team Kasey Chambers and Shane Nicholson hasn't been top selling albums and awards (together or solo), it has been how they have won over those outside of the mainstream country audience.
Certainly they bring some alt.country cachet and Nicholson's songs on his solo albums have been more along that trajectory, but for the most part the Kasey-Shane team are very traditional with fiddle, strident country harmonies and barnyard, boot-heel stomping beats.
Like Gillian Welch, they sing persuasively of damnation and old time religion as if it was part of the sophisticated 21st century, and in many places on this album seemed to have been transported here from remote Appalachia in the 19th century.
But that's in the nature of dealing in timeless truths and stories, and with their natural humour and directness they manage to pull of that difficult task of making morality, faith, tribulation and redemption relevant to people more at home with alt.rock.
That is a some feat. And in a sense the alt.country/alt.rock has had a path prepared to their door by the likes of Bonnie Prince Billy, Robert Plant and Alison Krauss, Iron and Wine, Bill Callahan and others.
This album pushes even further into that traditional country territory in the opener Til Death Us Do Part then shortly after Adam and Eve which is a literal retelling of the Biblical story. These songs -- and Dustbowl, the aching ballad of loss and hard won experience in Your Sweet Love and the religion/death soaked Have Mercy on Me -- would play well at church halls and concerts around Nashville.
But equally their affecting paean to domesticity in The Quiet Life, Nicholson's Busted Shoes and the hoe-down party pieces Flat Nail Joe and Sick as a Dog sound like bar songs for the rougher and more demanding parts of Austin. Or any pub in Outback Australia.
To these songs -- which already seem weathered by time and life -- they bring a clarity of vision in refined, almost elemental lyrics where images are hard-edged ("will anyone see if they bury me with a troubled mind?") and the music has as much emotional directness as the words.
The question being constantly asked here (Have Mercy on Me, Up or Down, Chambers on the heart-stopping Troubled Mind and others) is not how should we live, but how should we die?
"When you take your last breath of air and you listen to your final prayer, will it be a lonesome sound? Will you go up or down? Or wil it be lonesome sound?" (Up or Down)
"When the Lord takes my hand to the other side, will anyone hear the sound of a tear and a troubled mind?" (Troubled Mind)
Mortality isn't the sole preserve of country music, but there is something in these unadorned and honest harmonies, songs grounded in a long tradition and simple instrumentation which brings it home all the more authentically.
Wreck and Ruin is an exceptional document of loosely themed songs which, at core remind you that, uncomfortably perhaps, even in the midst of life . . .
For more on Kasey Chambers and Shane Nicholson (including an interview/profile) go here.