Graham Reid | | <1 min read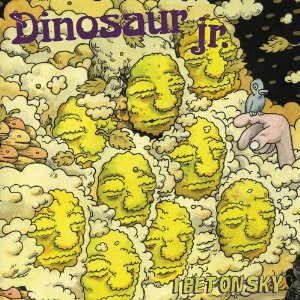 The favourable reviews and fan reception for this album -- their third since hatchets were buried and they reformed in 2005 -- have tended to emphasise that there is something comfortable and familiar about Dinosaur Jr here, and that it somewhat downplays the thrilling noise of their first incarnation.
All true. So another way of looking at that might be a disappointing, unchallenging album, perhaps?
In some ways that is also true but maybe you don't come to this trio wanting anything other than the template they invented and were masters of.
So while this one does tick off their familiar stylistic boxes, my money still goes to some of those solo albums by J Mascis (and with The Fog) and Lou Barlow, or of course those albums from their classic period when they were way out on their own and delivering distorted noisy stuff.
You feel a little of those more constrained solo albums seeping in here (Almost Fare which has a whiff of Cobain about it might have come from Mascis' Free So Free) and certainly this sounds more melodic and clean that what they once fired off.
So this won't and hasn't disappointed Dinosaur Jr lifers, but there is a very solid back-catalogue which I'm thinking I'll be returning to more often than this.