Graham Reid | | <1 min read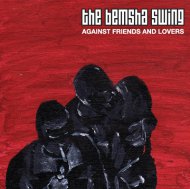 Courageous and/or foolhardy is a furious post-punk bassist and guitaring duo (with a pneumatic drill drum machine, buzz-shred guitar chords) which would name itself after a Thelonious Monk tune.
That seems designed to incur wrath and condemnation, but fortunately jazz aficionados are not going to venture into this world of bruising but white heat pop-rock delivered with widescreen intensity and explosive committment.
They have opened for Wire -- whom I wouldn't cross the street to see again, but these guys I would go a long way for -- and people who take their Monk seriously would be well advised to stay away. The name means nothing in the context of this firepower.
This is two-punch, bruising rock which slices off just enough metal-edge and rage to allow them to persuasively throw out a piece called My Muse is a Bitch.
Like flat-tack Ramones with phasers set to stun, sten-gun drumming driving it and a sense of desperation which is enthralling, effective and delivering with the urgency of youth, Bemsha Swing take no prisoners and if your idea of pleasure is genuinely exciting, power-chord and throat-searing rock'n'roll then you've just found your band.
For someone who actually takes his Thelonious Monk as seriously as he does the Ramones, Black Flag and Anthrax, this is repeat play, up-to-11 undisguised pleasure.