Graham Reid | | <1 min read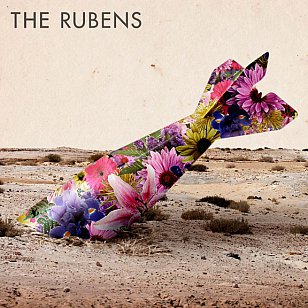 Australia's earnest Rubens may wrap their album in bright colours but that floral-delic rocket crashed into a wasteland is a metaphor: this is teen agony pop-rock about having love shot down (My Gun), coming to terms with yourself ("took something bad to show me what I had" on Never Be the Same), struggling with putting the blame on someone (the aching but tune-avoiding Lay It Down) and so on.
On home turf this four-piece have a following via Triple J – being good-looking guys doubtless helps – but the overall impression is much of this is angst-by-numbers. Whatever emotions are being wrung aren't matched by a persuasive delivery on something as potentially venomous as Be Gone ("he'll cheat, you'll see that we're all the same and shoulda never left me").
The big hearted ballad bewildering called Elvis and the dramatic, twanging I'll Surely Die are memorable but, aside from Elvis, all the songs are co-written with their big name American producer/mixer David Kahne (the Strokes, Lana Del Rey, Sugar Ray and others, mostly B-graders) and he certainly makes this sound crisp and radio-friendly.
While it pushes the right buttons you might feel not much else beyond hear'n'chart action was their intention.