Graham Reid | | <1 min read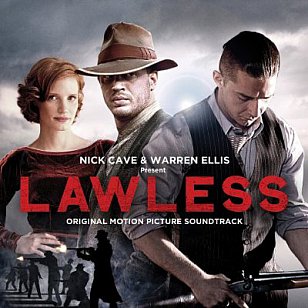 Music to a movie with interesting credentials. From the novel The Wettest Country in the World by Matt Bondurant about his bootlegging grandfather in Virginia, a screenplay by Nick Cave and directed by John Hillcoat (The Road, Cave's Proposition and Ghosts of the Civil Dead), it is a Depression-era gangster-cum-bootlegger story starring Shia LaBeouf, Guy Pearce and Gary Oldman.
And songs by Mark Lanegan, bluegrass legend Ralph Stanley, Willie Nelson and Emmylou Harris brought together by Cave and Warren (Bad Seeds, Dirty Three) Ellis.
It comes from a different angle than Bonnie and Clyde.
Here Lanegan delivers the strident, fiddle-coloured Fire and Brimstone and a bluegrass-kissed version of Lou Reed's White Light/White Heat, Cave and Ellis offer typically unnerving material, and Harris the ethereal You'll Aim Towards the Sky. And she has variations on Cave and Ellis' Fire in the Blood.
A highpoint is Stanley with his ancient sounding version of the same piece which segues into a breathy Harris on Townes Van Zandt's spooky Snake Song.
This is for Cave completists and the movie is some way off, but don't wait until then to hear 85-year old Stanley offer a moonshiner's take on Reed's heroin rush White Light/White Heat.
Like the sound of this? Then check out this.