Graham Reid | | 1 min read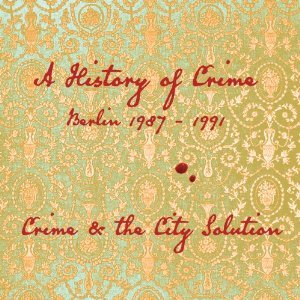 Subtitled An Introduction to Crime and the City Solution, this 16 track collection puts this dark and often demanding band -- mainman Simon Bonney pitching somewhere between Jim Morrison and Nick Cave -- under the spotlight in the years when they were in Berlin, appearing in Wim Wenders Wings of Desire and had Birthday Party/Bad Seed Mick Harvey in their constantly morphing line-up.
Founded in Sydney in the late Seventies by Bonney, Crime emerged as a recording unit when he relocated to London and brought together a new line-up (which included Rowland S Howard of Birthday Party, and Harvey) and inevitably he again moved, to Berlin which was the nexus for bands of this ilk. Nick Cave was already there (and also appeared in Wings of Desire).
Unlike Cave, Bonney's style erred to long poetic songs which frequently sidestepped such things as hooks and choruses. Mostly they sound like long verses of accumulating imagery propelled by tight and urgent music from the guitar-driven band and which often alluded to strange country and western (the sonic landscape of Home is far From Here).
This chronological collection includes key tracks from the much acclaimed album The Bride Ship which was their high-water mark (Keepsake, the menacing title track, Free World, New World) but the last half comes from the emotionally dense Paradise Discotheque with its four-part piece The Last Dictator.
Paradise Discotheque never really got its dues but it was musically much more textured, the gloomy density of previous albums stripped away a bit, and the Last Dictator is perhaps Bonney's major work, a strange and deliberately focus-shifting view of crumbling dictatorships, empires, the old guard in the Soviet Union, an almost sympathetic view of some deposed thug on his way out . . .
It rages as much as finds a sensitive tone and, like those rare great moments when Jim Morrison found his poetic mojo, drags you in to a world of sharp imagery and raw emotion.
The final track is the haunting -- and rather U2-like -- The Adversary which appeared on the Wings of Desire soundtrack (but not in the film), and then the band broke up.
End of story?
Not quite. Bonney is back with a new line-up and they are touring again, and have recorded a new album, their first in 22 years.
Here's your chance for a quick cramming session on a band that was somewhat overshadowed by Cave and the Bad Seeds, but had their own take on the bleak times of their era.