Graham Reid | | <1 min read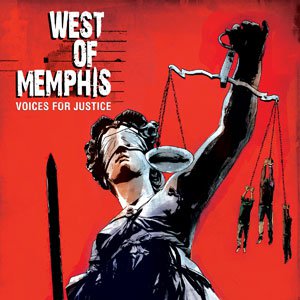 Celebrity has been debased by reality television, but its power and influence to do good (rather than flog a product or self-serving career) shouldn't be underestimated.
Amy Berg's doco West of Memphis about three US teenagers convicted of triple murder in 93 was made with high-powered support from Sir Peter Jackson (who produced it) and came with the heft of Johnny Depp, Eddie Vedder and Henry Rollins.
This album collects previously unreleased songs (or live versions) by supportive artists – it opens with Rollins reading a death row letter to him from one of the accused – and a moving soundtrack snippet by Nick Cave and Warren Ellis.
Because a portion of profits go to the West Memphis 3 benefit, it might seem churlish to dismiss Natalie Maines' treatment of Pink Floyd's Mother and some other songs, but Lucinda Williams' excoriating version of Joy is enthralling, Camp Freddy deliver an uplifting Jean Genie, Marilyn Manson offers a menacing You're So Vain, there's understatement on Vedder's Satellite and White Buffalo's House of Pain, Bill Carter's pointed Anything Made of Paper, Depp reading another bleak letter . . .
Not essential, but an album with its heart and profit motive in the right place.